In Chinese Republic, the manufacturing of wigs, hair extensions and weaves is big business. Professional buyers for salons and individual customers buying online are always told they are buying real 100% human hair extensions. When you look closely, sometimes things are not as expected. Goat Hair Extensions are more popular than you would think.
The reportage published by Sam Piranty (BBC News 10 Oct 2014) explores the hidden face of Chinese hair extensions and wigs manufacturers.
As he traveled in a small village in Hunan province (central China), he saw a man dressed all in white. The man was riding around the narrow dusty streets on a old bicycle. The man was shouting loudly and ringing his bicycle bell.
Sam Piranty stopped him, asking what he is doing. The main said he is collecting hair. He said that when he rings the bicycle bell local women are coming out and I cut their hair to sell it for extensions.
Mr Piranty asked him what is the price he pays. The man replied that he pays a good price and he makes profit.
Sam saw that the streets of this small village were literally covered in hair. It was left drying naturally under the scorching sun. The BBC reporter saw that some of the drying hair was definitely of human origins. The number of shaven goats on the village streets was suggesting that not all the hair was 100% human…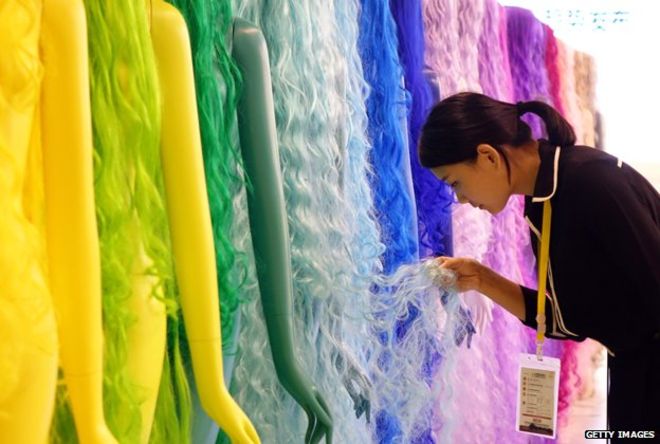 After collection the man was bringing everything to a local factory where few women were tying the bulks together. Those bulks are used then to make hair extensions.
Taking a close look, Sam sees that some of the bulks are human and some definitely are not. After packing the hair into bulks the factory sells them to bigger factories where they are processed with chemicals then sold to retailers around the China.
Sam left Hunan province willing to see where the proceed hair went next. He visited the megacity of Guangzhou, formerly known as Canton. Canton has always been one of most important trading Chinese places and wealthy inhabitants.
Massive hotels Guangzhou and blocks of office buildings dominate the skyline near by Pearl River. The skyscrapers roofs are hidden under the thick pollution. Beneath the smog of this bid city Sam Piranty met Lily, an extensions shop owner. Lily sells hair extensions and wigs Guangzhou's huge beauty products exchange centre in Sanyuanli area.
In her shop you can buy anything from extensions, nail polish, shampoo, night creams to products for foot care. The lower floor of the beauty's market is dedicated to hair products – horrible mannequins wearing wigs, hair extensions and weaves of any imaginable colour.
The shop owner Lily sits on a stool, sorting the last delivery: extensions, wefts and curls.
All the hair is labeled to supposedly tell the final customer their country of origin. At first view the extensions come from Peru, India and Brazil.
The shop has no Chinese customers at all – all the customers are apparently from African countries. South Africans, Nigerians, Ugandans, Ghanaians, Angolans and Congolese buyers rush on impressive hall for the cheap priced hair extensions. The customers tell Sam that they can triple their invested money when they bring the hair extensions home.
At the end of a busy trading day Sam Piranty asked the shop owner Lily how her business performs. Lily says everything is fine, she used to sell to European countries and America, but now almost 100% of shop's clients are from Africa. Lily showed a list of the buyers nationalities she sells to – out of 39 countries on this list, 37 are African.
Lily says that this is good business, but the problem is the rising prices for processed products, as living and manufacturing costs in China are getting higher.
Lily explains how in order to make the business more profitable, she uses fake scales when weighting the hair. She shows how she buys a mixture of natural human hair extensions with synthetic, or goat hair. This allows to lower purchasing costs and have more profit.
Lily says to her buyers that the extensions are of Indian or Brazilian origin, but in reality this hair it is just an ordinary Chinese or even goats hair. The buyers never realise the fake and buy it. Lily explains that this is the only way she can keep the prices low.
Before Mr Piranty leaves the shop, Maria (a buyer from Uganda) enters and demands for Brazilian hair, only Brazilian. Of the best quality and at the best price.
The negotiation with buyer goes on for hours, surrounded by wig-wearing angry-looking mannequins. As the sun comes down and the moon rises, Maria leaves the shop without buying anything.
Mr Piranty follows Maria and asks if she knows that some of the hair extensions sold in this shop are not human. The buyer says that she knows it. She says the Chinese people think buyers are stupid.
Marie pauses then and coming close Sam's ear whispers: "I laugh a lot when I go home and I know that the beautiful women of Kampala have goats hair extensions on their heads."
There comes a question: how many women in London wear goats hair extensions from China? Who knows…
Read full story reported by Sam PIRANTY on BBC NEWS website.